Description
A growing number of communities across the United States have implemented body-worn camera (BWC) programs. Many agencies have shared their resources here because their experiences can inform future legislation, procurement, implementation, and other aspects of BWC programs.
In 2015, at least 37 states and the District of Columbia considered body camera legislation, while 20 of those states and the District enacted new laws. Fifteen states have statues that require or recommend the audio and visual recording of statements made by persons in police custody, and another four are considering legislation addressing the recording of custodial interrogations. In 2016, 22 states and the District are considering body camera legislation, and five of those states - Florida, Minnesota, Indiana, Utah, Washington - and the District enacted new laws. Twenty-five states in total have created laws for body cameras.
Check out the current legislation effecting BWCs in your state by clicking here.
Check out the current laws and policies on BWC video public access in your state by clicking here.
Subject Matter Experts Share
Featured Resources
NCSL Tracks Legislation
The National Conference of State Legislatures monitors and reviews various topics related to police use of body-worn cameras and the legislation around them.
NIJ Market Survey
The National Institute of Justice reviews body-worn cameras and documents features, functions, and products
Study Assesses Evidence
OJP Diagnostic Center publishes an assessment of the evidence to inform conversations about the impact, perceived benefits, and important considerations of using police-worn body cameras
21st Century Policing Task Force
The 21st Century Policing Task Force heard testimony about the use of body-worn cameras and the intricacies of effectively implementing this policing strategy
National Landscape FAQs
Currently, we do not have an accurate estimate of the number of law enforcement agencies that have initiated body-worn camera (BWC) programs. Several law enforcement agencies in the United Kingdom were experimenting with BWCs as far back as 2005. In August 2013, the Police Executive Research Forum (PERF) surveyed 500 law enforcement agencies regarding their use of BWCs. Of the 254 agencies that responded, just 25% (n=63) indicated that they deployed BWCs. Interest in the technology has grown tremendously since then. One BWC vendor advertised in February 2015 that its product has been purchased by 4,000 law enforcement agencies worldwide, but this figure has not been verified. One expert has estimated that between 4,000 and 6,000 law enforcement agencies are planning to adopt or have already adopted BWCs. The Bureau of Justice Statistics (BJS) is performing a survey to better understand the number of law enforcement agencies that have implemented a BWC program.

For additional information, see:
Per the National Conference of State Legislatures (http://www.ncsl.org/research/civil-and-criminal-justice/law-enforcement.aspx), an increasing number of states—30 as of Feb. 20—are considering legislation that address body-worn cameras for police officers.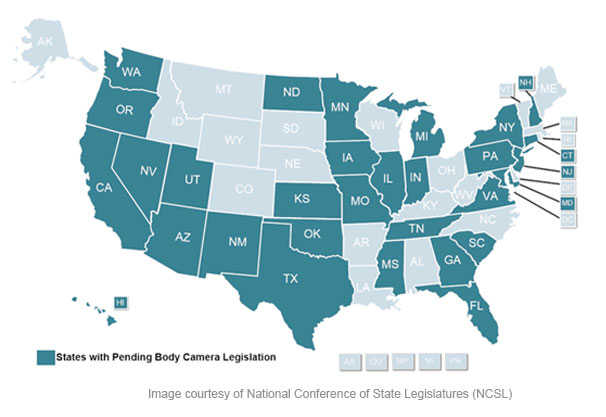 Proponents of body-worn cameras believe that video and audio recordings of law enforcement's interactions with the public will provide the best evidence of, and defense to, accusations of police misconduct. They also believe that being on camera reduces some tension between police officers and the public. For example, a field experiment conducted on body-worn cameras with the Rialto, CA, Police Department found that incidents where police used force and community member complaints against police officers were reduced 50 and 90 percent respectively compared to the previous year.

Several municipalities—including Chicago (IL), the District of Columbia, Los Angeles (CA), New York (NY) and Seattle (WA)—have recently implemented body-worn camera programs and their experiences will inform body-worn camera policy moving forward.

While many are enthusiastic about the potential benefits of body-worn cameras, there are practical and constitutional hurdles to their implementation including funding, data storage and retention, open records laws, recording in areas protected by the Fourth Amendment and appropriate regulations for police use. Many of these and other issues are addressed in state legislation.

So far there have been few enactments addressing body-worn cameras by police officers, and all became law in 2014. Pennsylvania (30 Pa.C.S.A. § 901, PA ST 34 Pa.C.S.A. § 901) enacted legislation allowing waterway and game conservation officers to wear body-worn cameras and Vermont (VT ST T. 20 § 2367) enacted a law that, in part, requested a study of their use in conjunction with Tasers. Oklahoma enacted a law classifying video and audio files from body-worn cameras, if kept, as records under their Open Records Law. Oklahoma's (51 Okl.St.Ann. § 24A.8) law also specified situations where video could be redacted prior to being released including portions that depict the death of a person or a dead body, nudity or the identity of individuals younger than 16 years of age.
The Bureau of Justice Assistance (BJA) has dedicated $2 million to fund two or three body-worn camera (BWC) projects as part of the Smart Policing Initiative in fiscal year 2015. As part of President Obama's Community Policing Initiative, $20 million is available to support BWC purchases and programs in fiscal year 2015. The President has proposed an additional $30 million in the fiscal year 2016 budget. Finally, the BJA Edward Byrne Memorial Justice Assistance Grant (JAG) is a valuable resource for communities to use to procure this equipment.

For more information, see:
There are a handful of useful resources on body-worn cameras (BWC). The Police Executive Research Forum (PERF) and the Office of Community Oriented Policing Services (COPS) Office published a report in 2014 that examines key issues and offers policy recommendations. The report is based on survey responses from 254 agencies, interviews with 40 law enforcement executives who have implemented BWCs, and outcomes from a one-day conference held on September 11, 2013, that included more than 200 law enforcement executives, scholars, and experts. In April 2014, the Office of Justice Programs Diagnostic Center published a report that describes the core issues surrounding the technology and examines the state of research on those issues (White, 2014). In March 2014, the National Institute of Justice (NIJ) published a market survey that compared BWC vendors across a range of categories. There is also a growing number of published evaluations that examine the implementation, impact, and consequences of body-worn cameras. This web site and toolkit is intended to be a clearinghouse of the latest available research, reports, and knowledge on the technology.

For additional information, see:
For additional evaluations from around the United States, United Kingdom, and Canada, see:
Or view BWC Toolkit Research Resources with the category of Implementation Experiences
Public and media requests for body-worn camera (BWC) video are governed by local, tribal and state laws. As a result, law enforcement agencies should work closely with their legal counsel on this issue. States vary tremendously in the scope of their laws governing public access to government information, including BWC video, which is generally viewed as a public record. The Police Executive Research Forum (PERF) cautions agencies to balance the legitimate interest of openness with the need to protect privacy rights. For example, releasing a video that shows the inside of a person's home will likely raise privacy concerns. Also, most local, tribal and state laws have a provision that allows an agency to decline a public records request if the video is part of an ongoing investigation. PERF also cautions agencies to use their exceptions to releasing video "judiciously to avoid any suspicion by community members that police are withholding video footage to hide officer misconduct or mistakes." (PERF, 2014: 18) Departments should also provide clear reasons for why they decline to release a video.

Department policy should also specifically prohibit officers from accessing recorded data for personal use, and from uploading data to public web sites. Departments should clearly articulate the punishments for such violations (PERF, 2014).

Bureau of Justice Assistance BWC Expert Panel participants further emphasized the value of having open forums to discuss BWC programs. Lieutenant Daniel Zehnder, Las Vegas (NV) Metropolitan Police Department, explained that they "hosted an extensive media day–set up scenarios and spent hours training local media on how the cameras work. We found this extremely important to build rudimentary knowledge." Matthew Scheider, Assistant Director for Research and Development at the Office of Community Oriented Policing Services, suggested, "the key is for officers and policymakers to engage with the public before implementation; this engagement at the community level is critical. I encourage this group to think about the future of BWC–what does the future hold and what are the pitfalls it holds? One potential future and pitfall is facial recognition with BWC, including those in the background. The notion of FOIA (Freedom of Information Act) and access of records is important, and concerns over storage will get easier but community members will want access."

For more information, see:
Law enforcement agencies should consult with their local prosecutors and legal counsel as they design their data storage policies. Laws governing how long video must be stored may vary across cities, tribal governments, and states. Video that depicts an arrest or critical incident may have to be stored for an extended period of time. Departments have varied policies on how long they keep video that depicts an encounter where no formal action is taken. Some departments will store such video as long as a community member can file a complaint. For example, if members of the public can file a complaint for up to six months after an encounter with a law enforcement officer, it may be necessary to keep all video for six months so the video can be accessed to assist with the complaint investigation. State law may dictate the length of time for storage of more formal law enforcement encounters with members of the public. These are important issues that law enforcement agencies should discuss with their prosecuting authority before procuring storage systems or enacting any policies regarding storage.

Some departments classify body-worn camera video as either "evidentiary" or "non-evidentiary." Evidentiary video includes footage that can be used for investigative purposes, and many departments have created sub-classification systems of types of videos (homicide, use-of-force, arrest, mental health commitment, etc.). The length of time a video is retained is then typically determined by how the video is classified (evidentiary or non-evidentiary) and, if evidentiary, the type of encounter.

Many of those surveyed by the Police Executive Research Forum (PERF) retain non-evidentiary video for 60-90 days. Regardless, retention times should be specifically stated in department policy, as should the process for data deletion. As an indicator of transparency, many departments publicly post their retention policies on their web site.

The PERF report (PERF, 2014) also identifies a number of data storage issues that should be covered by policy and put in place:
The policy should clearly prohibit data tampering, editing, or copying.
There should be technological protections against tampering.
The department should have an auditing system in place that documents who accesses each video, when the access occurs, and why.
The policy should identify who has authority to access video.
Departments should develop a reliable back-up system for video.
Law enforcement should provide guidance on when officers should download video (e.g., at the end of the shift).
The policy should be explicit about the use of third-party vendors.
Each department must fully examine its state, local, and tribal laws to determine when it is lawful to record events. Most communities, however, fall into one of two groups.

The first group is composed of those communities that require one-party consent. In these communities it is lawful to record communication when consent is obtained from one person (e.g., officer, suspect, or victim). Within these laws, there might already be exceptions that would cover body-worn cameras (BWC). Nonetheless, in these communities, it is up to law enforcement to determine whether they inform the individual of the recording. The Police Executive Research Forum (PERF) recommends that officers inform members of the public that they are being recorded "unless doing so would be unsafe, impractical, or impossible," (PERF, 2014: 40). PERF emphasizes that this does not mean that they are required to have consent to record, only that they inform the person that they are recording. The rationale for this is straightforward. If BWCs do produce benefits in terms of change in behavior (civilizing effect), those benefits can only be realized if the community member is aware of the recording.

The second group are those communities that require two-party consent. This means that it is not legal to record the interaction unless both parties consent to it being recorded. As stated above, there might also be exceptions within these laws that may cover BWC recordings. Two-party consent laws can present special problems to law enforcement agencies that are interested in implementing a BWC program because the law enforcement officers have to announce that they would like to record the interaction and obtain approval from the member of the public. As a consequence, some states such as Pennsylvania have successfully modified existing statutes to allow the law enforcement to use BWCs without two-part consent (Mateescu, Rosenblat and Boyd, 2015).

For more information, see: